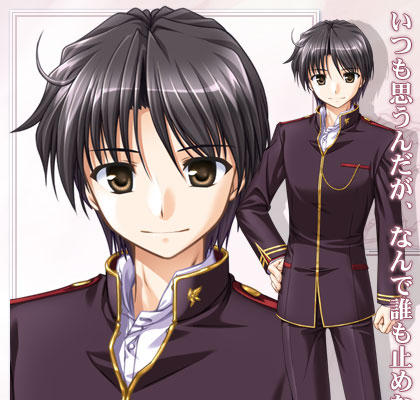 Name: Ajax Conner
Age: 15
Gender: Male
Eyes: Dark Brown(But depending they can turn night blue and dark red)
Hair: Black
Skin Tone: Almost pale
Body Type: Athletic
God|Titan|Primordial Parent: Tsukiyomi no Mikoto
Mortal Parent: Janna Conner
Siblings:
Talents: Hiding, sneaking, killing.
Flaws: He likes silence, gets angry easily, and upholds his honor so much that he would kill himself if it was harmed..
Powers: He has Umbrakinesis, gets a lot stronger under the moon, and can shoot moonlight out his hands.
Weapon: A magical CB katana named 'Muramasa.' Also has a special ring that turns him invisible.
Clothing: In de pic..
History: Ajax was raised by his dojo. He did not live with his mother as she abandoned him at birth. He was trained in the ways of the samurai. He upholds his training and the code of the samurai. He was often used to assassinate those who abused their power. Although he did not enjoy it, he did not stray from his
bushido
. He eventually escaped, and left his dojo. He became a rogue samurai, working for only personal reasons.
RP Example: I stood in complete silence. When a voice enters my head. Ajax? Yes Muramasa? What are we waiting for? We have to wait for the enemy. Are you completely sure this will work? Yes Mura, the enemy will show up any second. Alright AJ, but it better be correct. I sit and meditate for a while. After a while, someone bursts in. A girl.